NAAAP Leadership Team
NAAAP's greatest asset is our members, volunteers, and leaders.  Meet our National Board, Executive Team and Administration, and Chapter leaders.
If you are interested in joining the National team, please review our open positions and contact us. In additional to national opportunities, NAAAP chapters are always looking for volunteers to serve locally.
Find the chapter closest to you.
National Board of Directors photo taken Feb. 2020 , L to R: Fabian DeRozario, Ron Chang, Nilyum Jhala, Kim Cummings, Betty Lo (interim President thru 2020), Elizabeth Yang,  Michael Gonzales, D.A. Abrams.  Absent are: Aurora Austriaco, Jane Hyun, and Shim Sameer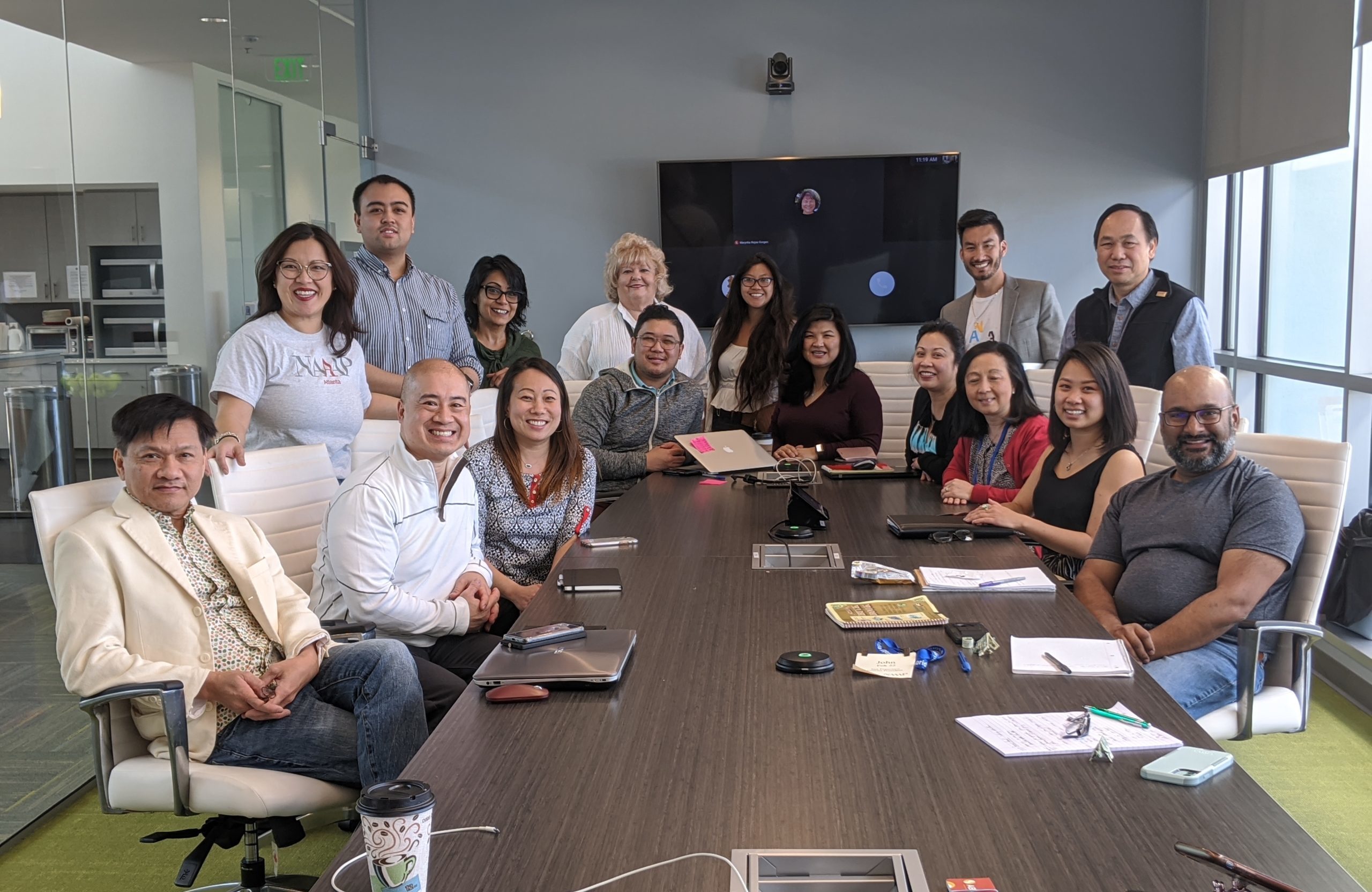 Chapter Presidents Council, L to R seated: Man Le/TPA, Ben Hum/TOR, Jeanie Chang/NC, Will Cheng/MN, Betty Lo (Interim National President), Vicky Cheung/MIA, Cindy Ng for Ping Cao/PHL, Carol Nguyen/DFW, Paraag Maddiwar/Cincinnati. L to R standing: Kim Tong/ATL, Vin Pineda/DC, A.J. Jeedigunta/VP Detroit, Junann Lopez/KC, Lauren Garces/SD, Newlyn Wing/ORL, John Fok/SF
National Board of Directors
National Board members oversee the strategic vision,  financial sustainability, and talent cultivation for NAAAP.
Executive Team and Administration
The NAAAP National Administration team is a group of dedicated volunteers who plan and reserarch programs on a national level.
Chapter Leaders
NAAAP chapter leaders are the key to successful  professional development, networking, community service and signature programs.
National Board of Directors
Ronald Chang, Chair
Ronald Chang, President of Corporate Treasury for UPS,  was appointed to this position in October 2018. He has more than twenty-five years of financial experience with UPS, the world's largest transportation and logistics company. Past assignments include President of Enterprise Transformation, President of UPS Capital Corporation, and Global Head of Mergers & Acquisitions and Intellectual Property Group along with a number of international postings.
Ronald received his MBA from the George L. Graziado School of Business and Management, Pepperdine University.  
Fabian DeRozario, Vice Chair
Fabian De Rozario is a community and business leader who has led, coached, and trained thousands of people globally. Fabian is a thought-leader and an energizing speaker in the topics of people-engagement, diversity, and inclusion practices, delivering more than 100 workshops and seminars each year worldwide.
Fabian started his consulting & training practice GlobalConnect LP in 2005 and was previously an on-call consultant and senior faculty with Korn Ferry, a global organizational consultancy. He has worked with more than 150 corporations, mostly Fortune 500 companies. He is a subject expert of diversity & inclusion, talent engagement, unconscious bias, cultural agility, and leadership. Fabian also previously served as NAAAP's National President/CEO and currently serves on NAAAP's National Board of Directors.
Fabian previously served in student services leadership, faculty, and corporate trainer roles at Northern Illinois University and at the University of Arkansas at Little Rock (as Director of the Donaghey Student Center). From 1998 to 2006, Fabian was the Director of U.S. University Relations and the Director of Global Operations for the Golden Key International Honour Society headquartered in Atlanta.
His acknowledgements include the Outstanding Asian American Leader Award from the U.S. Pan Asian Chamber of Commerce – Southeast Region, the President's Award from the Georgia Society of Association Executives, and the 2011 Class of Leadership Atlanta.
D.A. Abrams, Treasurer
David Anthony (D.A.) Abrams, CAE joined the CFP Board as Managing Director for the Center for Financial Planning in November 2019. In his role, D.A. is responsible for cultivating a quality workforce, fostering a more diverse financial planner workforce, and elevating the discipline of financial planning including continued education, cutting-edge knowledge, and outstanding service to clients.
D.A. is the immediate past Chief Diversity and Inclusion Officer for the United States Tennis Association (USTA).  During his 26 years with the USTA, D.A. served as the Executive Director for two (2) of the Association's 17 Section offices; USTA Eastern, and USTA Missouri Valley.  In addition, D.A. served as the staff member of the Diversity & Inclusion Committee, Hispanic Engagement Advisory Group, and was chair of the D&I Advisory Group at the USTA. Further, he was the chair of the USTA's Accreditation Review Committee.
Currently, D.A. serves as the Diversity & Inclusion Sports Consortium President, the National Association of Asian American Professionals Board Treasurer, and is an Advisory Board Member of Diversity MBA.
He played collegiate tennis at Millersville University in Pennsylvania where he earned his undergraduate degree in business administration, concentration – accounting. Subsequently, D.A. earned a master's degree from Metropolitan State University in Minneapolis, MN. D.A. earned his Certified Association Executive (CAE) credential in 2010. D.A. is enrolled in Louisiana State University Shreveport's MBA Program.
Aurora Austriaco
Aurora Austriaco is co-founder of Valentine, Austriaco, Bueschel law firm.  She concentrates her practice in the areas of commercial and real estate litigation, construction litigation, mechanic's liens, defense of mortgage foreclosure, mortgage fraud – plaintiff, title insurance claims litigation, and other special chancery remedy cases. Her clients range from multinational corporations to small and startup companies to individuals.
Aurora is currently serving as Commissioner for the Illinois Courts Commission and is in her 12th year as Chair of the Cook County State's Attorney Asian Advisory Council.  She served 9 years as Commissioner for the Park Ridge Planning and Zoning Commission, and has served 11 years as Commissioner for the Cook County Human Rights Commission.  She is the immediate past president of the Chicago Bar Association, and was named a Super Lawyer-Real Estate, one of the Top 10 Women Consumer Attorneys by Leading Lawyers, and one of the Top 10 Women Lawyers in Real Estate.  Aurora is also fluent in Tagalog.
Kim Cummings
Kim Cummings, SCP, SPHR is Vice president, Human Resources and Talent at Children's Health based in Dallas, Texas.  In this role, Kim leads HR and Talent strategy including workforce/people transformation initiatives, succession, and supports cross-market enterprise wide talent development initiatives.
Previously, Kim was Assistant Vice President HR & Diversity at BNSF Railway.  Kim provided leadership to the HR matrix teams supporting Law, State/Federal Govt Affairs, Corporate Communications, Claims, Compliance and Audit Services, and Technology Services and led BNSF Railway's diversity and inclusion efforts, EEO and HR Compliance.  Kim has over 20 years of HR experience in a variety of leadership roles encouraging and promoting employee engagement in companies that include Belo Broadcasting, Burger King Corporation, Dell and Target Corporation.  Kim is a thought leader in the space of Diversity & Inclusion receiving numerous community service and business awards that include "HR Professional of the Year" designation by Ogletree Deakins Law Firm and the Dallas Chamber of Commerce, DiversityFIRST™ Award from the National Diversity Council, Texas Most Powerful Business Women by Texas Diversity Magazine.
Kim received her Bachelor degree in Social Work from Southwest Texas State University graduating from the University's Emerging Leader program and was inducted into Who's Who in College & Universities students.  Kim received her Master degree from the University of Texas at Austin.  She holds a Senior Professional designation in Human Resources and certified employee relations credentials.  Kim is a professional member of the Fort Worth Human Resources Group and National Society of Human Resource Management.
Affiliations/Community Involvement
Chinese Institute of Engineers/USA-DFW Board
Conference Board – Diversity& Inclusion Executives Council
Girls Inc. of Tarrant County Advisory Board
Grapevine/Colleyville ISD Diversity Council
Multicultural Alliance Board
National Association of Asian American Professionals
Orchid Giving Circle – Dallas Women's Foundation
Society of Human Resource Management
The Source of Hope Advisory Board
University of Texas Arlington Human Resources Advisory Board
Elizabeth Yang
Elizabeth Yang, Immediate Past National President (2017-2019), joined the National Board in February 2020.  Elizabeth began her volunteer work with NAAAP in 2008, then helped co-found NAAAP SoCal (Los Angeles, Orange County and San Diego chapters) and helped rally the SoCal NAAAP members to put on the National Convention in Anaheim in 2014. She served as NAAAP LA's President from 2014-2016, while filling the role of Director of Volunteer Management, onboarding new team members to the national team. In 2016, Elizabeth was named the NAAAP National Leader of the Year.
Elizabeth is an entrepreneur, founded her Law and Mediation Practice in Los Angeles in 2011, and opened three stores of Magical Playground. Elizabeth has been practicing law since 2007 and specializes in Intellectual Property Law, including Patent, Copyright and Trademark Prosecution and Litigation; Business Law, and also Family Law. Previously, Elizabeth worked at both Raytheon and NASA's Jet Propulsion Lab designing electronic circuits. She also serves as a Commissioner for the City of Monterey Park Design Review Board, a member of the Executive Board of Governors of the Southern California Chinese Lawyers Association, and also a Member of the Pasadena Tournament of Roses. Her awards include Super Lawyers Rising Star (2017) and Top 100 Lawyers (2016-2017) by National Trial Lawyers. Recently, she co-authored a book, "The Big Secret" with Jack Canfield (Chicken Soup for the Soul).
Elizabeth has a B.S. in Electrical Engineering & Computer Science from UC Berkeley, a JD cum laude from the University of La Verne College of Law, and recently a MBA from the University of La Verne. Elizabeth is married to Phil Cheng (also on the NAAAP National team), and has a daughter Liliana and son Alexander. She is fluent in Mandarin Chinese.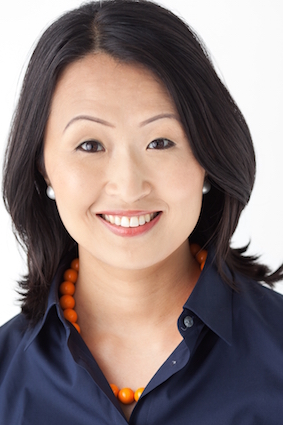 Jane Hyun
Jane Hyun has served on NAAAP's National Board of Directors since 2016. Jane is a leadership strategist to Fortune 500 companies and an expert in cross-cultural effectiveness, onboarding, and Asian talent development. She has 25 years of direct business experience and is a renowned speaker on topics of leadership and cultural fluency and has held management posts at JPMorgan Chase, Deloitte, and Resources Global.  
Jane is the author of the bestseller, Breaking the Bamboo Ceiling, and is the co-author of Flex: The New Playbook for Managing Across Differences. 
A graduate of Cornell University with a degree in Economics and International Studies, Jane serves as an Advisor to the Center for Talent Innovation, Toigo Foundation's President Circle, and is a board member of Operation Exodus, a New York City based non-profit that provides academic tutoring and mentoring to Latino youth in Washington Heights.   Furthermore, she is the research director for The Conference Board Cultural Fluency: How Culture Shapes Talent and Leadership Styles in Asia study.
Jane has appeared on media outlets such as CNN, CNBC, Wall Street Journal and Forbes discussing leadership, culture, and career development. Jane is passionate about helping individuals flourish in their workplaces and in their communities.
Michael A. Gonzales
Diversity & Inclusion Consultant, Co-Founder, Diversity & Inclusion Consortium, Professor of D&I, Kansas University and the former Leader of Hallmark's Corporate Diversity & Inclusion Work
Michael is the principal owner of NE&E consulting and travels the country as a consultant, executive coach, speaker, panelist and advisor on D&I topics impacting business and workforce imperatives. As the former corporate leader of Hallmark's D&I department, he was responsible for Hallmark's D&I's strategies and objectives, their internal and external collaborations, partnerships and compliance. He was responsible for the execution of the D&I's priorities regarding, workforce, workplace, marketplace and community.  Michael was also responsible for the company's seven Employee Resource Groups, (ERG's).
He is also the co-founder of the Diversity & Inclusion Consortium, a national organization of over 385 D&I practitioners and advocates hailing from 18 states 25 cities including three international cities, Toronto, Canada; London, England and Hanoi, Vietnam. The Consortium was created when he saw a need for collaborative thought and sharing. The main objective of the Consortium is to share best practice and to provide each other insights  and support regarding D&I opportunities and challenges.
Michael is a frequent lecturer on university campuses advancing  student knowledge and appreciation for D&I not only for their college experience but in preparation for their professional career. He assumed the role of professor teaching a course on diversity, inclusion and equity at Kansas Univerisity this past Spring semester 2020.
He currently serves on 10 national, regional and local boards and councils.
Michael is skilled in the areas of executive coaching, assessment & consulting, speaking & presentations, building critical relations, innovation and resourcing, business collaboration, employee relations, diverse and cultural understandings, compliance metrics and program management.
Shim Sameer
At the Bank of America, Shim Sameer is the Preferred Lending and National Operations executive within Preferred and Consumer Banking & Investments. As Preferred Lending executive, she built and leads a team of approximately 5,500 associates comprised of financial center-based Credit Solutions Advisors and Relationship Manager Lending Specialists and is charged with delivering home loans solutions, deepening relationships and enhancing the experience of existing and prospective clients within the Preferred segment.
In her role as National Operations executive, Shim leads a franchise-wide team focused on developing and executing a consistent risk management and client experience strategy to drive client satisfaction, operational excellence and talent development within the company's approximately 4,000 financial centers across the country. Since joining the Bank in 2005, she has held a number of leadership positions within the company, both in Consumer Banking and Consumer Investments.
Shim is a passionate supporter of advancing women's careers and Intentional Inclusion and has a strong track record of mentoring and developing leaders across the company. Often invited to speak at various forums, panels and events, she has addressed audiences globally on the topic of inclusion and empowerment of women. She is the founder of the bank's Consumer Investments Women's Forum and founder and executive sponsor for the bank's Preferred and Consumer Banking & Investments Executive Women's Forum. She is a recipient of the distinguished Bank of America Global Diversity and Inclusion Award and has been profiled on FairyGodBoss.com for her commitment to advocating for and empowering women in the workplace. In 2020 and 2021, she was named to the "INDIA New England News" list of Outstanding Women, and in 2020 the EMpower/Yahoo Finance Ethnic Minority Executive Role Model List and the HERoes Women Role Model Executive List that honors global leaders who are champions for diversity and inclusion in business.
Outside of work, Shim actively supports various non-profit organizations. She serves on the boards of the Massachusetts Bankers Association and the Walker School in Needham, Massachusetts. She holds a master's degree in arts, and was the valedictorian of her class. She is also a Six Sigma-certified Green Belt.
Shim resides in Mansfield, Massachusetts, with her husband and daughter, and enjoys traveling with them.
Mohammad (Mo) Azam
Mohammad (Mo) Azam is the Chief Audit & Compliance Executive of UPS.  In his current role, Mo is responsible for global audit, compliance and ethics related activities for UPS. He also oversees the Enterprise Risk Management (ERM) and Privacy process for UPS. As the Chief Audit & Compliance Executive of UPS, Mo reports administratively to Norm Brother, Chief Legal Officer of UPS, and functionally to the Audit Committee of the Board of Directors.
Prior to his current role, Mo was the Global Financial Process Controller with responsibilities to develop and manage global shared services for financial processes at UPS. He started his career with UPS as Global Controller for Supply Chain Solutions.
 Prior to joining UPS, Mo was the Vice President of Finance and Accounting for Mellon Bank's leasing group.  Mo has held senior finance positions with several large multi-national organizations including Ford Motor Company, Dole Packaged Foods and Sega Internet Games. He obtained his public accounting experience working for KPMG.
Mo also taught both graduate and undergraduate Finance and Accounting courses as an Adjunct Professor at Golden Gate University in California between 1991 and 1999.
Mo received his bachelor's in Accounting and MBA in Finance from Golden Gate University. He is a Certified Public Accountant (CPA) from the State of California, and a member of the Institute of Internal Auditors (IIA). He is also a member of the Board of Governors of IIA Atlanta Chapter.
Ashley Mack, Executive Director
As CFO, Ashley Mack oversees NAAAP's accounting, budget forecasts, payment and reimbursement policies, and guards against waste, fraud, and abuse. In 2018,Ashley also served as deputy general manager for the Leadership Convention in Atlanta.
Since 2016, Ashley has been supervisor of billing services, at Southern Company Gas. She leads a team of of 8 accountants responsible for $1B+ in annual billing revenue. At Southern Company Gas, Ashley is also co-founder & chairwoman of Soar Asian ERG, the company's first Asian ERG with a mission to recruit, retain and advance Asian American and Pacific Islander (AAPI) employees across the company and to support the AAPI communities they partner with and serve.
Hans Huang, Chief Legal Officer
Hans Huang is the Chief Legal Officer at Kaufman Lynn Construction, where he reviews and negotiates contracts and joint venture agreements and is the liaison with outside counsel.
Hans earned his Juris Doctor degree from the University of North Carolina at Chapel Hill. In addition to legal experience, Hans is an entrepreneur and investor and has extensive executive management and consulting experience.
Hans started his legal career as a volunteer with North Carolina Legal Services while attending the University of North Carolina School Of Law (JD '98). In 2006, Hans became a partner with Maupin Taylor. In 2009, Hans joined BioResource International, a biotech company headquartered in RTP as its Director of Corporate Development and General Counsel and eventually started his own firm in 2012.
Currently Hans participates in various entrepreneurial projects himself. He has operated, owned, sold, and developed various restaurants and lounges since 2004. Since 2012, Hans has joined several management teams including for the following: asset recovery and management services company; real estate development company; document management, logistics and fulfillment center; a winery; a clothing and accessories franchise including online operations; and a law firm focusing on Asian-owned businesses and Asian clients.
Hans' non-profit experience includes forming, serving, and sitting as legal advisor to several non-profits, charities, and political organizations, including Band Together for North Carolina which organizes large functions benefiting various charities including The New York Police and Fire Widows' & Children's Benefit Fund and The Washington DC Survivors Fund, Special Olympics, and Operation Smile. Hans previously held Board positions with local non-profits and charities including SafeChild, North Carolina Chinese Business Association, Hyphen-American Leadership Organization ("HALO"), Leadership Raleigh Alumni Association, Raleigh Chamber/Small Business Section, Carolina First Fund Raising Campaign, UNC-CH's Alumni Committee on Racial and Ethnic Diversity, and the NC Bar Association's Minority Outreach Section Member.
Catharine Kelley, Chief Talent Officer
Catharine Kelley was adopted at age 4 months old from Seoul, South Korea and raised by her Irish Catholic family in Quincy, Massachusetts. Her younger brother, a chef, is from a different area in South Korea and joined the family 2 years after Catharine. Her father, a veteran, attended Law School at nights as he was a truck driver during the day. Upon graduating Suffolk Law, he was the United States Trustee, Bankruptcy for over 20 years. Her mother, the eldest of 8 children, is a retired school teacher who taught at St. Ann's school in Dorchester for over 25 years. Catharine self identifies as Irish Asian American/She/Her. She serves as the Chief Talent Officer for the National Association of Asian American Professionals (NAAAP National) as well as provides leadership for the Boston Chapter of NAAAP. She leads diversity efforts for the talent acquisition team at Bright Horizons Family Solutions. She is an avid New England sports fan and still loves Tom Brady. She is available on linkedin to connect with you. Link: https://www.linkedin.com/in/catharine-kelley-0a3a97/  
Cyndy Yu-Robinson, Sustainability and Partnerships
As E.D., Cyndy Yu-Robinson oversees daily operations of the organization.  She supports and coordinates the actions of NAAAP's volunteer leaders in areas of business development, programs, communication, and administrative efficiency.
Cyndy has volunteered and worked on NAAAP's Leadership Convention every year since 2009.  As Chief Marketing Officer from 2011 to 2013  she spearheaded NAAAP's 30th anniversary celebration in 2012 and launched ALIST Magazine.  As Chief Programs Officer, she supported national programs including the NAAAP100 awards program, the National Leadership Academy, the NAAAP Leadership Convention, NAAAP Speaks (speakers'  bureau), Women in NAAAP (WIN), Successful Parents in NAAAP (SPIN), and Fitness in NAAAP Everyday (FINE).
Cyndy Yu-Robinson has worked for 25 years in communication, public affairs, and public engagement.  Her passions include environmental sustainability, community service and philanthropy, and sports and fitness. Cyndy worked as a Congressional liaison and public information officer for the U.S. Environmental Protection Agency from 1991-2008 and served as the Asian Special Emphasis Program Manager for 9 of those years. She moved into private sector as Lenovo's Corporate Social Responsibility Manager and served on numerous non-profit boards including that of Sustainable North Carolina for 3 years. From 2010 to 2020, she led public outreach on roadway, transit, and water projects at AECOM, a global infrastructure and environmental services company.  Most recently, she has been assisting Wake County, North Carolina, in boosting vaccine confidence and enthusiasm to help fully #vaccinateWake.
Her service to the Asian community includes being a volunteer at the Asian Women's Center in San Francisco, an officer of the Triangle Area Chinese American Society in North Carolina, President of the NC-Chinese Business Association, and project director for Census 2010 Outreach to Asians and Pacific Islanders in North Carolina.
Cyndy graduated from Stanford University in 1987 with a bachelor's in human biology and from the University of California, San Diego, in 1991 with a master's in international relations and Pacific Studies.
Cyndy and her husband Steve run a martial arts school in Raleigh and train athletes for national and international competition. As a direct result of leadership and networking skills fostered in NAAAP, Cyndy's martial arts school and Greater Raleigh Sprots Alliance hosted the AAU Karate national championships and 3000 competitors at the Raleigh Convention Center in 2015 and 2017.
Contact her at director at naaap dot org [[email protected]] or cyndy dot yu dash robinson at naaap dot org
Sophia Toh, Interim Chief Financial Officer
Hometown: Sibu, Sarawak (Borneo), Malaysia (Chinese Malaysian American)
Education: Purdue University: MBA (Concentrations: Finance and Strategy) Clayton State University: Bachelor in Bus. Administration (Accounting) Cornell University: Executive Certificate in Diversity & Inclusion
Coaching: Associate Diversity Coach Marshall Goldsmith's Stakeholder Centered Coach A member of the International Coaching Federation Internal mentor, coach, and trainer at Procter & Gamble & Kraft Heinz
Languages: English, Mandarin (plus several Chinese dialects), and Malay
Dennis Ngin, Chief Digital Officer
Dennis is currently the Vice President of Digital Experience at Wpromote, ranked by Forrester as the leading performance marketing agency helping brands excel online . He was previously the Chief Operating Officer of Visiture, an award winning 5x Inc 5000 eCommerce agency that was acquired by Wpromote. Dennis has also held roles at Accenture Strategy, Amazon, and an eCommerce startup.
As NAAAP's CDO, Dennis is responsible for defining and executing a digital-first strategy for NAAAP and its regional chapters in order to increase member engagement and drive operational efficiencies across the organization. 
Dennis earned his MBA from the University of Virginia's Darden School of Business and Bachelors degrees in Marketing and Political Science from the University of Florida. He resides in Atlanta, GA with his wife and son. 
Marynka Rojas Gorgen, Chair, Presidents Council
In addition to being the founder and current President and Chief Visioning Officer of the NAAAP San Jose chapter, Marynka champions the needs and perspectives of all chapters presidents as the Chair of the Presidents Council.  Retired from the Santa Clara Valley Water District, Marynka spends her free time as Head Coach of the Dieselfish Dragon Boat team which trains in the Bay Area and competes internationally.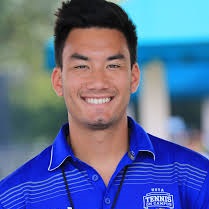 Newlyn Wing, Chief Strategy Officer
Newlyn began his NAAAP involvement as a founding member of the Orlando chapter and currently serves as Chapter President, along with his roles of Strategic Manager for NAAAP Self-Care & Wellness. He spent six years with the United States Tennis Association, the national governing body of tennis, where he served as a national program manager. In this role he oversaw the national structure of a collegiate club sport while also serving as a co-chair for the Asian American Business Resource Group.
In the role of Chief Strategy Officer, Newlyn is responsible for creating an operational structure to bring alignment across the National Board of Directors, National Administrators, Chapter Leadership and membership to deliver on NAAAP's vision, mission, and objectives.
Newlyn loves to serve in positions where he can give back, which includes serving on various advisory boards for collegiate programs and engaging with organizations like Big Brothers Big Sisters. He earned his Bachelor's degree from Ferris State University in Business Administration/Professional Tennis Management and his Master's degree from San Diego State University in Hospitality & Tourism Management. 
Iyleen Summer, Chief Programs Officer
As Chief Programs Officer, Iyleen oversees multiple NAAAP nationally branded programs including the Leadership Academy, ERG leadership training program, Leadership Convention, Women in NAAAP, NAAAP Pride, and NAAAP recognition programs (NAAAP 100, Inspire, and Pride Awards).  Iyleen has first hand program knowledge through planning the 2019 and 2020 Leadership Academy agenda and serving as a program assistant in NAAAP's ERG leadership training conferences for five years.   Iyleen also planned professional development programs for NAAAP Boston for several years.
Outside of NAAAP, Iyleen currently works in product management at WorldStrides Explorica in Boston. Previously she has worked in the non-profit and higher education sectors. She has a Masters Degree in Public Policy from the Heller School of Social Policy and Management at Brandeis University and a dual Bachelor's Degree in Sociology and Asian Studies. She also volunteers for the Diversity Board at the Big Sister Organization of Greater Boston.
Gina Yeo-Bennett, Chief Talent Solutions Officer
As Chief Talent Solutions Officer, Gina will lead the design and development of NAAAP's talent development strategy to further the growth and success of NAAAP leaders. She is a certified professional coach and owner of a coaching and consulting practice 'BeYouCoach'. Gina is a global thought leader in high performance workforce, helping organizations create high-achievement environments focused on inclusive leadership, and developing talent as a competitive advantage. Her  experience as a global leader for Fortune 500 companies include Harley-Davidson Motor Company, Allstate Insurance Company, Flowserve Corporation, CDW Corporation and international clients such as the Petronas Tower (KL), Caltex Oil & Gas, St. Regis Luxury Hotel (Sheraton) Digi Communications and Palace of Golden Horses.  Gina has been a business partner for C-suite and cross-functional leaders in large-scale organizational culture change initiatives. She has also designed, executed and facilitated organizational initiatives that impacted on transformational growth, and retention of high-performance employees. Gina enjoys oil painting, travels to unique destinations, is a hardcore foodie and loves riding her motorcycle!
Keith Nishida
Director, NAAAP Pride
Jeleen Sindall
Director, Leadership Convention '22 
Sophia Toh
NAAAP100 & Inspire Awards Director
Jeanie Chang
Director & Founder, Self Care and Wellness
Junann Lopez
Chapter Development Director
Marynka Rojas Gorgen
Chair, Presidents Council & President, San Jose Chapter
August Lew-Kee
Social Media Specialist
Ashley Wu
Graphic Designer/Brand Master
John Ong
Advisor, Web and Digital Experience
Aakriti Marhajan
National Talent Acquisition Manager
Saranja Looney
National Talent Engagement Manager
Mathea Olson
API Heritage Month Coordinator
Grace Chao
Mentoring/KIP101 founder
Vacant
Public Relations Director
Vacant
Director, ERG Relations
Vacant
Director, Women in NAAAP
Kim Tong
President, NAAAP Atlanta
Phu Trinh
President, NAAAP Austin
Brian Gerardo
President, NAAAP Baltimore
  Chien-Mei Chang
President, NAAAP Boston
Rose Olea
President, NAAAP Chicago
Yuka Eileen Schmidt
President, NAAAP Cincinnati
Crystal Chinn
President, NAAAP Colorado
Lucy Vo
President, NAAAP Dallas-Ft. Worth
Asim Alavi
President, NAAAP Detroit
Wilson Yip
President, NAAAP Hawaii
Junann Lopez
President, NAAAP Kansas City
Joyce Tse
President, NAAAP Las Vegas
Joanne Giang
President, NAAAP Los Angeles
Phong Luu
President, NAAAP Miami
Dinesh Hegde
President, NAAAP Milwaukee
Will Cheng
President, NAAAP Minnesota
Lori Chen
President, NAAAP New York
Jeanie Chang
President, NAAAP North Carolina
Aldo Halim
President, NAAAP Orange County (CA)
Newlyn Wing
President, NAAAP Orlando
Ping Cao
President, NAAAP Philadelphia
Omar Soriano
President, NAAAP Pittsburgh
Lauren Garces
President, NAAAP San Diego
John Fok
President, NAAAP San Francisco
Marynka Rojas Gorgen
President, NAAAP San Jose
Alex Truong
President, NAAAP Seattle
Man Le
President, NAAAP Tampa
Ketsana Vilaylack
President, NAAAP Tennessee
Ben Hum
President, NAAAP Toronto
Vin Pineda
President, NAAAP Washington, D.C.
Amy Vuong
President, NAAAP Wichita
Michael Yen
President, NAAAP Xiamen, China